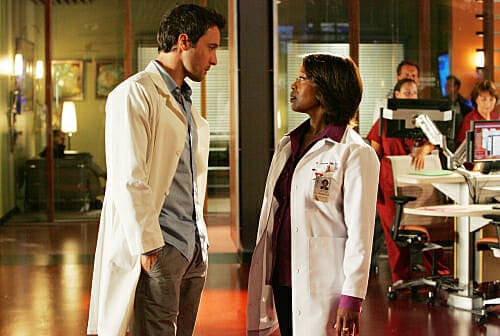 A message from Alex via his MySpace page:
Hello everybody.I thank you all for being so patient with me in this hectic time. I have been meaning to update you every other day, but am constantly inundated with requests, interviews, charity work… and of course Three Rivers.
We have had a rough start with the show as far as numbers are concerned.  Hopefully, this is due partly to East Coast football and baseball playoffs. But our wonderful cast and crew maintain an attitude of stoicism and commitment in the promise of more attention toward this show which I have come to love and believe in so much.
When I first read the pilot I wasn't sure if I could pull it off. If I could in fact breathe any life whatsoever into this surgeon guy, Andy Yablonski.
I have worked really hard and i continue to study everyday the medical text books and reference material I use for this show. I collaborate with everyone on the show to make it better for you on Sunday, and now we are on the air pushing through to what we hope will be a "back nine" pickup, meaning Three Rivers will live to see a full season.  I was kind of sad to read this letter from Alex today. Being the owner of this site I have the privilege and sometimes the unpleasant duty of reading every single comment made by fans here. In the past few weeks we have had many negative comments about the show and Alex's role as Dr. Andy. Last week there were more comments made by fans that they "hoped" Three Rivers would be cancelled. The critics haven't been kind and neither have many the fans. Here is to hoping that Alex gets that chance to create that show "we can all be proud of".
I want you all to know that as always, I humbly appreciate all the support I constantly receive and that I am fighting hard to bring you a show I hope we can all be proud of.
Until we speak again, thank you and please tune in to Three Rivers!
All my love,
Alex. x
I was a bit sad to read this note actually. As the owner of this site I read every single comment made here and many of the fans have not been very kind to Three Rivers or the character of Dr. Andy. Just this week we had yet more comments made by his fans that they hope TR gets cancelled.
Alex…  many of your fans are already proud. Remember that…